John W. SPEDDY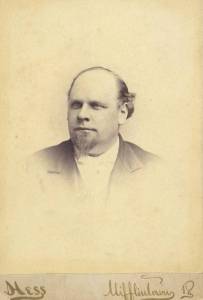 Click On Image To Enlarge
JOHN W. SPEDDY FOUNDER OF THE PORT ROYAL TIMES

JOHN W. SPEDDY, Port Royal, Juniata County, Pa., was born August 16, 1846, in Mifflintown, Pa., son of Alexander and Angeline (Wright) Speddy.

JOHN W. SPEDDY received his education in Mifflintown. At the age of fourteen he was employed in the office of the Tuscarora Register, of Mifflintown, A. G. Bonsall, proprietor and editor. Mr. Speddy spent three years at the case in that office, thoroughly learning the trade, after which he attended a select school taught in Mifflintown by Prof. E. J. Way.

Leaving the school at the end of a year, Mr. Speddy was during the next year clerk in the store of Joseph M. Belford, at Mifflintown. He then went to Philadelphia, and was compositor and bookkeeper in a newspaper office for one year; next returned to Mifflintown, and after passing a short time there, started the Northumberland County Herald, at Milton, Pa., and conducted it for a year; then removed the plant to Mifflintown, and began publishing an independent Democratic weekly paper, called the Independent. He continued to issue this paper until, in August, 1872, his plant was destroyed by fire, and he was obliged to suspend publication for six months; after that time the paper was resumed and issued without interruption until January, 1876, when Mr. Speddy sold out to Col. E. B. McCrum, of Mifflintown, formerly proprietor of the Altoona Daily and Weekly Tribune.

In May, 1876, Mr. Speddy established the Port Royal Weekly Times; the first issue appeared May 18, of that year; its dimensions were 24 by 36. In 1894 he enlarged it to an eight-column sheet, 26 by 40. The Times was an independent paper, devoted to the interests of the county, and Mr. Speddy made it a success in every way.

He was for a number of years president of the borough council; was a school director, and served on the high school building committee. Mr. Speddy was warmly interested in temperance reforms.

JOHN W. SPEDDY was married, December 12, 1872, in Carlisle, Pa., to Mary P., daughter of Robert Moore, of Carlisle, of which place she was a native. Mrs. Speddy was of Scotch-Irish descent. Their only child died in early infancy. Mr. Speddy was a member of the Methodist Episcopal church, and is a local preacher. He has been a Sunday-school teacher since his youth.
| | |
| --- | --- |
| | Contributed by garthe on 9/19/09 - Image Year: 1890 |
| | Contributed by rkohler3 on 12/24/10 - Image Year: 1910 |