Grover Ellsworth WOLFGANG Jr.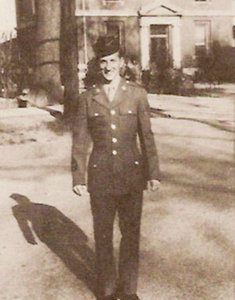 Click On Image To Enlarge
Grover WOLFGANG

(20 Sep 1925 - 25 Jun 2004)

(Son of Grover Ellsworth and Mary E. (Walters) Wolfgang. The family lived at 416 West Fourth Street (Fairview) when Grover Jr. was born.)

OBITUARY for GROVER E. WOLFGANG, JR

Grover E. Wolfgang, 78. of Port Royal, died at 2:45 p.m. Friday, June 25, 2004, at Riverside Regional Medical Center, Newport News, VA.

He was born September 20, 1925 in Port Royal, the son of the late Grover E. Wolfgang Sr. and Mary Ellen (Walters) Wolfgang. His wife, Nancy Jane (Bauer) Wolfgang, whom he married in 1950, survives.

Also surviving are one daughter, Mrs. Jim (Jane) Wolfgang-Price, Downingtown; two sons, Dr. David R. Wolfgang and wife Dr. Anne, Pennsylvania Furnace, and Pastor Jim G. Wolfgang,
Obion, TN; two sisters, Mrs. Betty Purnell,. Philadelphia and Mrs. Jean Breniezen. Lancaster; and five grandchildren.

He was a retired banker and loan officer, having worked for the Juniata Valley Bank, Miffintown. Earlier he had worked for Mann Edge-Tool Co. Lewistown.

He was a 1944 graduate of Tuscarora Valley High School. Port Royal, and was a 1950 graduate of Pennsylvania Military College, Chester.

Mr. Wolfgang was a member of Port Royal United Methodist Church. Union Lodge No. 324, F&AM, Mifflintown. He had been active in many community organizations and the local government.

He was a veteran of World War II having served in the U.S. Army Air Corps.

The funeral will be held Wednesday, June 30 at 1:00 p.m. from Port Royal United Methodist Church with Rev. Kenneth R. Kitzmiller officiating. Interment will follow in Old Church Hill Cemetery: Port Royal.

A viewing was scheduled for 6:30 to 9:00 p.m. Tuesday at Rex Funeral Home, Port Royal. with Masonic services at 9:00 p.m. Memorial donations may be made to Port Royal United Methodist Church. PO Box 396, Port Royal. PA 17082.
| | |
| --- | --- |
| | Contributed by rkohler3 on 4/13/17 - Image Year: 1941 |
| | Contributed by rkohler3 on 2/10/13 - Image Year: 1943 |
| | Contributed by rkohler3 on 9/18/09 - Image Year: 1926 |
| | Contributed by rkohler3 on 12/9/10 - Image Year: 1945 |
| | Contributed by rkohler3 on 2/14/13 - Image Year: 1962 |
| | Contributed by rkohler3 on 2/21/13 - Image Year: 1962 |
| | Contributed by rkohler3 on 8/13/19 - Image Year: 1943 |
| | Contributed by rkohler3 on 8/13/19 - Image Year: 2003 |