Community Building
Fourth St. (Fairview)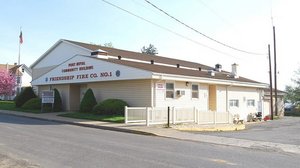 Click On Image To Enlarge
Some in Port Royal would argue that the town had an earlier community building. Those who would make such an argument usually point to the second floor of the Charles Swartz building on Sixth Street as the first community hall. (That building eventually housed the Foltz Grocery and in 2012 a Flooring Store.)

The present Community Hall was started by a ground breaking ceremony on August 4th, 1955. W. W. Naylor lifted the first shovel of earth while G. M. Runkle, C. W. Taylor, H. S. Deen and Grover Wolfgang, all charter members of the fire company, watched. The dedication services were held April 1956 and the mortgage was burned by General Homer Groninger at a service on Monday evening, January 16, 1961.

This building has become the place for most community activities. Dances, banquets, meetings and many high school activities use it. Since 1959 the meeting rooms have become polling places where borough residents vote for local, state and national officials.

The fire house makes up part of the building. The first fire house was located in the rear of the Juniata Valley Bank and faced Third Street.
Contributed by rkohler3 on 5/16/14 - Image Year: 2007

Contributed by rkohler3 on 10/13/12 - Image Year: 2012

Contributed by letwet on 1/17/16 - Image Year: 1955

Contributed by letwet on 1/17/16 - Image Year: 1955

Contributed by letwet on 1/17/16 - Image Year: 1956

Contributed by rkohler3 on 12/30/16 - Image Year: 2016

Contributed by cats on 9/19/09

Contributed by leitzels on 9/23/09

Contributed by crazyblond8 on 9/19/09