Linda L. "Lin" (HOSLER) RHINE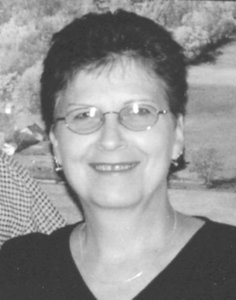 Click On Image To Enlarge
OBITUARY for LINDA L. "LIN" RHINE

PORT ROYAL - Linda L. 'Lin' Rhine, 66, of Port Royal (Walnut) went home to be with her Lord on Monday, Dec. 23, 2013, at her home after a three-year battle with lung cancer.

Born Aug. 17, 1947, in West Chester, she was a daughter of the late Kenneth H. and E. Mildred (Clay) Hosler.

She is survived by: her loving husband of 47 years, Donald E. Rhine, whom she married April 29, 1966; two children, Joseph A. Rhine and wife, Candice, and Susan D. Sieber and husband, Mark, all of Port Royal; sisters and brothers, Mildred 'Millie' Potts, of Marysville, Charles G. Hosler and wife, Kris, of Harrisburg, Andrew T. Hosler and Emma M. Hosler, both of Mifflintown; and four grandchildren, Kaitlyn and Kiersten Rhine and Jenna and Jeremy Sieber.

She was preceded in death by three brothers, Gary Hosler, Kenneth H. Hosler, Jr., and Clair 'Clem' Hosler.

Linda graduated from Tuscarora Valley High School in 1965 and was a homemaker. She was a member of St. Paul's Lutheran Church, Nook.

Her funeral will be held at 10 a.m. Friday, Dec. 27, at St. Paul's Lutheran Church, 15275 Rt. 35 South, Mifflin, with the Rev. Charles L. Hershberger officiating. Interment will follow in the church cemetery.

The family will receive friends from 6 to 8 p.m. on Thursday, at Guss Funeral Home Inc., 20 S. Third St., Mifflintown.

Memorial contributions may be made to Hospice: The Bridge, 305 4th St., Lewistown, PA 17044 or to St. Paul's Renovation Fund, PO Box 337, Mifflin, PA 17058.

Condolences may be left at www.gussfh.com.
| | |
| --- | --- |
| | Contributed by rkohler3 on 7/1/17 - Image Year: 1965 |