Mill - Wisehaupt - Goodman - Annlick - Growmark FS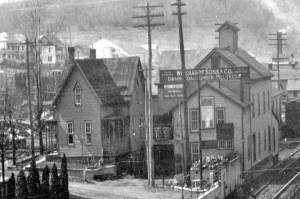 Click On Image To Enlarge
George B. M. Wisehaupt established a grain, coal and lumber business at a location near the Pennsylvania Railroad along Milford Street. In addition he formed a farm machinery business at the intersection of Main and Second Streets.

Later the mill was owned by Horace Frazer (husband of Laura Wisehaupt), daughter of John and Mary Jane Wisehaupt. Later George Wisehaupt's son Frank acquired the mill, then John Stake, then Charles Goodman and later John Anstine who operated it as Annlick Farm Supply.

In 1932 the lumber portion of the business was sold to the H. C. Hower Lumber Company.

Growmark started in 1927 when nine of the local agricultural supply cooperatives in Illinois, which had started early in the 1920s, formed Illinois Farm Supply Company. After purchasing the Port Royal property, Growmark replaced the original buildings with new ones.
| | |
| --- | --- |
| | Contributed by ray on 3/6/13 - Image Year: 1920 |
| | Contributed by rkohler3 on 9/23/19 - Image Year: 1895 |
| | Contributed by ray on 9/23/19 - Image Year: 1937 |
| | Contributed by rkohler3 on 8/30/19 - Image Year: 1974 |
| | Contributed by rkohler3 on 8/29/19 - Image Year: 1990 |
| | Contributed by rkohler3 on 9/23/19 - Image Year: 1991 |
| | Contributed by rkohler3 on 8/29/19 - Image Year: 2015 |
| | Contributed by rkohler3 on 9/29/19 - Image Year: 1990 |
| | Contributed by rkohler3 on 8/30/19 - Image Year: 2015 |
| | Contributed by rkohler3 on 3/6/13 - Image Year: 1929 |
| | Contributed by rkohler3 on 8/30/19 - Image Year: 1923 |
| | Contributed by rkohler3 on 3/14/13 - Image Year: 1949 |