Daniel FREED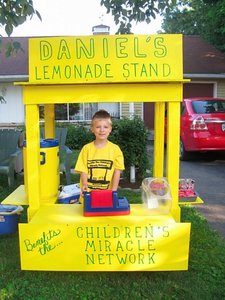 Click On Image To Enlarge
Daniel is the son of Rebecca (Book) and Jeremy Freed. Daniel is the grandson of Gerald and Betsy (Esh) Book. Great-grandparents are the late Ken and Mabel Esh and Roy and Jane Book.

Daniel served as a Grand Marshall of Tomorrow in the Port Royal Bicentennial Parade.

Article below from Lewistown Sentinel of June 21, 2014

YOUTH SELLS SUMMER DRINK TO GIVE BACK TO CHILDREN'S MIRACLE NETWORK

PORT ROYAL - Daniel Freed, 9, may just sell his last cup of lemonade this Fourth of July weekend.

Then again, maybe not.

The Port Royal young man has been selling lemonade at his stand every year during Independence Day for four years. He has raised more than $5,000 for the Children's Miracle Network at Hershey Medical Center.

This year's sale is from 8 a.m. to noon on July 4 and 5, at his home located at 816 Milford St., Port Royal.

What began as strictly lemonade and a little more than $300 in sales, has turned into a major event in which patrons are lined up around the block. There are now hot dogs and baked goods for sale. And there are T-shirts with the name of the event printed on a picture of a lemonade stand.

Daniel is the son of Jake and Becky Freed, of Port Royal. They told their son once the event became more work than fun, that maybe it was time to stop the event or at least take a break.

Daniel said it's getting to that point. He has a system. His friends help him set up an assembly-line of sorts as they sell the lemonade. And it has become quite a task, he admits.

Yet, he and his family love the event and love the cause.

So maybe he will do another year, he said. It's still too early to tell.

It was over dinner a few years ago when the family began reminiscing about how the Children's Miracle Network and Hershey Medical Center were so good to them during Daniel's illness.

Daniel was diagnosed in the womb with prenatal congenital hydronephrosis grade five. It is a disease in which the kidneys are abnormally enlarged. Grade five is the worst case of the disease. Many ultrasounds throughout Becky's pregnancy revealed the disease and its growth. Daniel was born four weeks premature at Hershey Medical Center in August 2004.

"They put him on medications," Becky said.

At 11 months old, Daniel became very sick and went to his family doctor. He was then given daily injections to help the infection. In September 2005, at the age of 13 weeks, he was scheduled for surgery.

"He came home after surgery with a drain tube. A week later he had it removed. When he got home he spiked a fever. They told us to get to the hospital. We grabbed a diaper bag and just went," Becky said.

The hospital at the time was very full and so the Freeds had to stay in the emergency room for four days.

"I just slept like this," Jake said, demonstrating how he sat with his arms around the bed and his head down on the bed to prevent Daniel from rolling out.

Jake said Daniel came home with a catheter and returned to the ER three times in one month.

Many doctor appointments and tests occurred until Daniel was about 5 years old. It was around that time that he was discharged from needing the routine care.

The family celebrated with a party and a "create your own sundae" event.

The next year they started the lemonade stand.

By having the stand they have come to realize Daniel's story is one of many.

"It's just amazing the people who stop by and tell us how Hershey helped them. The people are great - just generous with their stories," Becky said.

Family and friends have been generous with their time, too, as they mark their calendars each year and show up to help in one way or another.

Local businesses also pitch in and support the stand. The family often needs to run to the store during the event because no matter how prepared they think they are, something is always needed.

"It's usually 10 to 15 people deep in line for a few hours," Jake said.

"Country Time (lemonade) is our friend," Becky said of their main ingredient.

The lemonade itself has no set price. It is strictly donation.

"People do $10 a cup or $20 a cup," Daniel said.

Adds Jake, "We've gotten a few 25-cent cups and some $100 ones."

The money is put into a bag on the last day of the sale and then taken directly to CMN headquarters in Hershey.

Each year Daniel gets to give a large cardboard check to CMN on television at the annual telethon held in Harrisburg the weekend in June.

"They raised $5 million and a thousand dollars this year," Becky said.

She pointed out to Daniel that his check for more than $2,000 from last July's stand helped make that $5 million.

"Every little bit helps," she said, noting that it was not until the family attended their first telethon that they realized all CMN had done.

The group provides materials for families when they need to stay overnight at the hospital. They pay for incubators and special children's ambulances, among other things.

The family is just so grateful, Becky said.

Though the lemonade stand may retire, the family's appreciation will not. There is talk about Daniel's little sister Emerson, 6, taking over the stand.

The thought of giving it up is bittersweet to Daniel, who said in recent years he added more sugar to the lemonade to make it "the best ever."

"He takes it very seriously," Becky said, and he will no doubt give some serious thought about next year's stand.

She points to the T-shirt design. It reads "Benefits the Children's Miracle Network" at the top and mention's Daniel's name on the bottom.

Daniel insisted his name go on the bottom and the CMN be in large letters at the top - because in his mind that is what was most important, she said.

"Every time I see (the T-shirts) it reminds me of the kind of kid he is."
| | |
| --- | --- |
| | Contributed by rkohler3 on 4/30/12 - Image Year: 2011 |
| | Contributed by rkohler3 on 6/25/14 - Image Year: 2014 |
| | Contributed by jbfreed on 5/18/12 - Image Year: 2004 |
| | Contributed by rkohler3 on 12/3/14 - Image Year: 2005 |
| | Contributed by jbfreed on 5/18/12 - Image Year: 2005 |
| | Contributed by jbfreed on 5/18/12 - Image Year: 2008 |
| | Contributed by jbfreed on 5/18/12 - Image Year: 2006 |
| | Contributed by rkohler3 on 9/11/12 - Image Year: 2012 |
| | Contributed by rkohler3 on 10/8/12 - Image Year: 2012 |
| | Contributed by rkohler3 on 10/8/12 - Image Year: 2012 |
| | Contributed by rkohler3 on 10/8/12 - Image Year: 2012 |