Grocery Store - A&P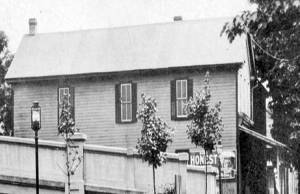 Click On Image To Enlarge
Unlike most stores in Port Royal, which were locally owned, The Great Atlantic and Pacific Tea Company operated a store in the town for about forty years. The company had started as the Great American Tea Company. However as it expanded across the nation its name was changed. Soon most people referred to it simply as the A&P. During the 1930s the company operated about 16,000 stores across the nation. The store in Port Royal was similar to most of the A&P stores found in small towns.

According to the following note, the company hired traveling salesmen: "WANTED: Man as agent for Mifflin and Port Royal and surrounding towns and country to sell coffee, laundry goods, and other groceries. Premiums given with goods. A good proposition for a hustler. Small bond required. The Great Atlantic & Pacific Tea Co., 1308 N. 3rd St., Harrisburg, Pa." (This advertisement appeared before the store was opened in Port Royal.)

The Port Royal A&P was located at the foot of the Railroad Bridge on Second Street. Elliott Towsey was the store manager and Darwin "Skip" Kohler was Elliott's assistant.

Unlike modern supermarkets, the customer would stand at the counter and tell the clerk the name of the first item on their shopping list. The clerk would then retrieve the item and return it to the counter, awaiting the announcement of the next item on the list. Since the stores did not have cash registers with adding capabilities, the price of each retrieved item was written on the back of a paper grocery bag. When all items had been assembled, the column of numbers was summed and the items would then be placed in the bag as the customer paid the total.

Since the A&P was part of a nationwide chain, the company established and sold some of its own brands. A specialty of the store was the freshly ground to order coffee. As soon as a person entered the store the aroma of freshly ground coffee was immediately apparent. There were three grades of coffee, Eight O'Clock, Red Circle and Bokar. Canned goods were sold under the label of Jane Parker or Ann Page.

To accommodate the farming community, the Port Royal store often remained open until eleven o'clock at night.

The Port Royal store closed about 1953. As people were moving to the suburbs, most stores failed to move with them and eventually the company entered bankruptcy. After the closing of the Port Royal store, Elliott Towsey worked in Bashore's Hardware and 'Skip' Kohler in the First National and eventually the Juniata Valley National Banks.
| | |
| --- | --- |
| | Contributed by rkohler3 on 3/7/13 - Image Year: 1940 |
| | Contributed by rkohler3 on 4/4/12 - Image Year: 1940 |
| | Contributed by rkohler3 on 4/7/12 - Image Year: 1940 |
| | Contributed by rkohler3 on 3/5/13 - Image Year: 1927 |
| | Contributed by ray on 3/3/13 - Image Year: 1929 |
| | Contributed by rkohler3 on 11/10/19 - Image Year: 1932 |
| | Contributed by rkohler3 on 3/11/13 - Image Year: 1936 |
| | Contributed by rkohler3 on 11/2/19 - Image Year: 1948 |
| | Contributed by rkohler3 on 3/13/13 - Image Year: 1949 |