Margaret Elizabeth (FRANKHOUSE) LYTER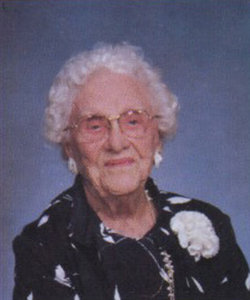 Click On Image To Enlarge
OBITUARY for MARGARET ELIZABETH FRANKHOUSE BEAVER LYTER

PORT ROYAL: Margaret F. Lyter, 105, a resident of Brookline Manor Retirement Village, Mifflintown RR1, formerly of Port Royal, died at 2:59 p.m. Wednesday, Aug. 18, 1999, at Brookline Manor.

Born Oct. 15, 1893, in Port Royal, she was the daughter of the late Charles D. and Jennie (Meloy) Frankhouse. Her first husband, Samuel S. Beaver, died in 1932 and her second husband, George C. Lyter, died Jan. 2, 1955.

Surviving are: children, Richard A. Beaver, Liverpool, and Eleanor B Hertzler, Port Royal; four grandchildren; five great-grandchildren; and three great-great-grandchildren.

She was the last of her immediate family and was preceded in death by a son, Charles T. Beaver in 1945; a stepson, William L. Lyter; three brothers; and one sister.

She was a 1910 graduate of the Port Royal High School and attended Susquehanna College, Selinsgrove.

She was a private duty nurse and had worked in the Masonic Home's Hospital, Elizabethtown.

She was a member of the Port Royal Lutheran Church and was a charter member of the Port Royal Book Club. She was a former member of the Eastern Star, Mifflintown.

Services will be held at 11 a.m. Saturday at the Rex Funeral Home, Port Royal, with the Rev. Marton J. Roberson officiating. Interment will be in New Church Hill Cemetery, Port Royal. Friends may call from 10 a.m. until the time of the services Saturday at the funeral home.
| | |
| --- | --- |
| | Contributed by rkohler3 on 7/23/11 - Image Year: 1993 |
| | Contributed by rkohler3 on 7/22/11 - Image Year: 1901 |
| | Contributed by rkohler3 on 10/11/11 - Image Year: 1910 |
| | Contributed by rkohler3 on 7/23/11 - Image Year: 1957 |
| | Contributed by rkohler3 on 7/22/11 - Image Year: 1980 |
| | Contributed by rkohler3 on 7/22/11 - Image Year: 1980 |
| | Contributed by rkohler3 on 7/22/11 - Image Year: 1986 |
| | Contributed by rkohler3 on 7/23/11 - Image Year: 1990 |
| | Contributed by ray on 7/23/11 - Image Year: 1990 |