Martha (THOMPSON) BASHORE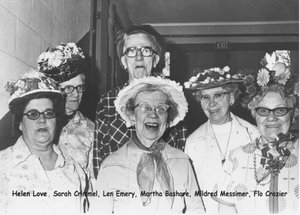 Click On Image To Enlarge
OBITUARY for MARTHA THOMPSON BASHORE

MARTHA T. BASHORE, 91 of 408 Milford St., Port Royal, died at 6:40 p.m. Monday, August 22, [1988] at the Locust Grove Retirement Village.

Born July 3, 1897, in Mexico she was the daughter of the late Charles A. and Jennie [Hetrick] Thompson. Her husband, Floyd E. Bashore Sr., died July 17, 1960.

Surviving are: daughter, Doris B Garrett, Port Royal; two grandchildren and four great-grandchildren.

She was preceded in death by a son Floyd E. Bashore Jr., on Nov. 3, 1967.

She was a 1916 graduate of the Port Royal High School.

She and her late husband operated the former Bashore's Greenhouse Port Royal.

She was a member of the Port Royal Lutheran Church and the Port Royal Senior Citizen's Center

Services were held at H a.m. Friday at the Rex Funeral Home, Port Royal, with the Rev. John K. Whitcomb officiating. Interment was in the Old Church Hill Cemetery. Port Royal.