Josiah Frank BARTON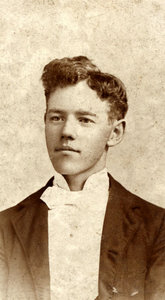 Click On Image To Enlarge
OBITUARY of JOSIAH FRANK BARTON

J. FRANK BARTON DIES OF INJURIES

J. FRANK BARTON of Port Royal died at 10:30 am, Wednesday, Feb. 14, 1934, in the Lewistown Hospital, from a fractured skull sustained three hours earlier, when his car left the highway south of Thompsontown and struck a telephone pole, turning over.

He was born at Pleasant View Sept. 9, 1874, and was a son of the late Josiah and Temperance Gruver Barton. He was a merchant practically all of his life, having owned the general store at McCoysville for a number of years, and then, after a short interval in which he conducted a grocery store in Lewistown, he came to his old home at Pleasant View, where he took over the business of his brother, H. H. Barton, deceased, which he conducted until last November.

The deceased was a member of the Academia Presbyterian Church and of the Lewistown Lodge, No. 203, F&AM. On Feb 25, 1987 [1897] he was united in marriage to Miss Alvie M. Stewart, who preceded him in death less than a year ago, April 16, 1933. To this union were born four children, three of whom survive, namely: J. McCoy Barton, Lewistown; Mrs. Isabel Frankhouse and Mrs. Helen Hower, Port Royal. He is also survived by four sisters: Mrs. C. B. Okeson and Miss Tessie A. Barton, Lewistown; Miss Ida M. Barton, Albany, NY and Mrs. C. W. Darrow, New York City, and by six grandchildren.

Funeral services were conducted from the home of his daughter, Mrs. Melvin Frankhouse, Port Royal, Saturday morning, Feb. 17th, at 10:00 with his pastor, Rev. Charles Howell, officiating, assisted by Rev. H. W. Webner, of the Port Royal Lutheran Church. Interment was made in Church Hill Cemetery with the commitment service conducted by the Lewistown Lodge, No. 203 F&AM.