Alvereta "Alvie" (STEUART) BARTON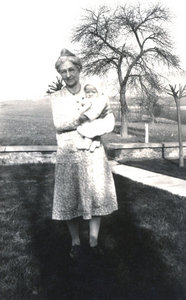 Click On Image To Enlarge
OBITUARY for ALVERETA M. STEUART BARTON

MRS. J. FRANK BARTON DIES AT PLEASANT VIEW

Mrs. ALVERETA M. STEUART BARTON, wife of J. Frank Barton, passed to the Great Beyond, Sunday afternoon, April 16th 1933, aged 60 years, 4 months and 2 days.

Mrs. Barton was stricken with a paralytic stroke Thursday afternoon previous to her death and despite all efforts of her family and the painstaking care of the physician she never regained consciousness.

She was born at McCoysville and was the daughter of the late Neal McCoy and Margaret Mairs Steuart.

In addition to her husband she is survived by one son, J. McCoy Barton of Lewistown, and two daughters, Isabel, Mrs. Melvin C. Frankhouse and Helen, Mrs. Dwight B. Hower, both of Port Royal and one sister, Mrs. Bessie Sieber of Allensville, and one brother, Thomas M. Steuart of Wooster, Ohio, and six grandchildren.

Early in life she united with the United Presbyterian church at McCoysville, later becoming affiliated with the Lower Tuscarora Presbyterian Church at Academia.

She was a faithful member of the church. She was not only faithful to her church, but just as faithful in believing that it was her duty as a Christian to do the will of her Master at all times. She was always ready to lend a helping hand in time of need-both in acts of kindness and in words. Her sweet face made sunshine in a shady place. If strangers felt the charm of her rare courtesy and joyous sunny temperament, how much more so the members of her own household upon whom she lavished all the sweet earnestness and careful culture of her mind and nature. Strong and potent was the influence of this loving heart which gave of its gifts as generously. The spirit of her love was not weakness but strength.