Charles GOODMAN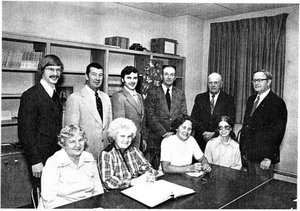 Click On Image To Enlarge
OBITUARY for CHARLES L. GOODMAN

Charles L. Goodman, 86. of Port Royal RD1, died at 1:45 p.m. Friday, April 20, 1990 at his home.

Born December 6, 1903 in Turbett Township, he was the son of the late Harry L. and Bertha L. [Reeder] Goodman.

His wife Leone R. [McClure] Goodman, died on May 22, 1987.

Surviving are sisters, Mrs. George [Ruth] Dullea, Port Royal RD1 and Mrs. M. [Leone] McKee, Mifflintown RD4.

He was preceded in death by four sisters.

He, was a former owner of Goodman's Mill, Port Royal.

He was a member of the Port Royal Lutheran Church, the Union Lodge No 324 F&AM in Mifflintown, Tall cedars Juniata Forest No 88, the Consistory of Harrisburg and the Zembo Temple in Harrisburg.

He was also a member of the Perry-Juniata Shrine Club, the Mifflin-Juniata Scottish Rites Club, the BPOE No. 663 in Lewistown. the Loyal Order of Moose No. 143, Lewistown, the Port Royal Lions Club and the Turbett Grange No. 781.

He was the former president of the Juniata Agricultural Society and chairman of the Port Royal Speedway for many years.

He was currently serving as the secretary to the Port Royal Fair Horse Racing Association.

He was the former manager and coach of the Port Royal AC baseball team.

Services were held at 2 p.m. Monday at the Rex Funeral Home, Port Royal with the Rev. Steven Nelson officiating.

Interment was in the New Church Hill Cemetery, Port Royal.