Ella M. (MILLER) WEIMER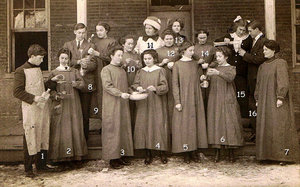 Click On Image To Enlarge
OBITUARY for ELLA MILLER WEIMER

ELLA M. WEIMER, 88, of Duncannon RD1 and formerly of 1113 North Second Street, Harrisburg, died at 2 a.m. Thursday, September 16 at Harrisburg Hospital.

Born March 3, 1894 in Mifflintown, who was the daughter of the late Lednem S. and Catherine Boyer Miller. She is preceded in death by her husband Roy S. Weimer, Feb. 7, 1974 and a daughter; Madeline W. Pannabaker, Dec. 20, 1977.

Surviving are one son, and one daughter: Roland S. Weimer of McAlisterville RD1 and Mrs. Edward (Doris) Zendt of Duncannon RD1; one sister; Kathryn A. Miller of Kish Apartments, Lewistown,; six grandchildren and eight great grandchildren.

Mrs. Weimer retired from the Mechanicsburg Naval Supply Depot and the Pennsylvania State Municipal Retirement Board, Harrisburg. She was also a former employee of the Olmstead Air Force Base, a former secretary and program chairman of the National Association of Retired Federal Employees and a former secretary of the Galvanters Club in Harrisburg.

She was a member of the Port Royal Lutheran Church, the American Association of Retired Persons, the YWCA, the Harrisburg Charter of the American Red Cross, the Harrisburg Hospital Auxiliary and the Turbett Grange No. 781 of Juniata County.

Services were held at 2 p.m., Sunday at the Rex Funeral Home, Port Royal with the Rev. Reide E. Bingaman officiating. Interment was in the Old Church Hill Cemetery, Port Royal.