William Heim GRONINGER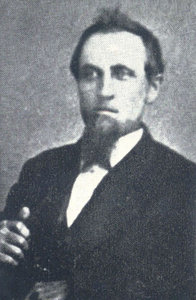 Click On Image To Enlarge
William Heim Grominger was a son of Jacob and Sidney (Wilson) Groninger. He was born April 2, 1842 in Perrysville [Port Royal] PA. He married Catherine E. Ritzman and they had six children.

In Juniata County, William H. Groninger served twenty-three years as a teacher of public school, including two years in Patterson (Mifflin) and three in Port Royal. He also served three years as a member of the Board of County Commissioners, 1876-1878; three years as clerk of the court, and six years as county surveyor. During this period of official service he prepared the draughts for all the new bridges of the county, including the ten that replaced those that were lost, at the time of the Johnstown flood, May 31, 1889.

FORMING CAVE AND CAVERN ASSOCIATION

An association has been formed by Hon. John Koons, Dr. G. M. Graham and Wllliam H. Groninger, Esq., under the title of Tuscarora Cavern and Cave Association, and active operations have been commenced by these gentlemen for the exploratipn of a cave which is firmly believed to exist on he land of Hon. John Koons at a point a short distance west of his residence, and quite near to the public thoroughfare known as the "ridge road" leading from Port Royal to Waterloo, about 1 1/2 miles southwest of Port Royal. The work of exploration was commenced Monday of this week by a force of workmen and excitement is running wild over the adventure. The place is visited daily by a great throng of people and it is confidently expected by the projectors of this enterprise to develop ere long a second Luras cavern. The many and favorable indications of a cavern existing in that vicinity as well as at other points along the ridge which starts on the land of Mr. Koons and terminates at a point a short distance east of the residence of John F. Nourse, Esq., in Spruce Hill township, four miles in length. Many persons firmly believe that the earth under the ridge is hollow, predicating their beliefs on facts which have come under their own observation. A number of these facts have been related in our hearing, and they are most assuring as well as thrilling in their character, and fully warrants these projectors in indulging in the roost sanguine expectation. (THE PORT ROYAL TIMES - September 10, 1885)

In 1900 William moved to Des Lacs, North Dakota, and settled on a farm. Once settled there, he soon prevailed on three of his children to relinquish their chosen occupations in the East, and become independent farmers in Dakota. By 1923 the family owned 2800 acres in North Dakota.