William Culbertson POMEROY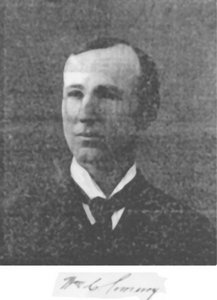 Click On Image To Enlarge
Hon. William C. Pomeroy, son of Hon. Thomas and Mary Ann (Wilson) Pomeroy, was born at Roxburg, Pennsylvania, November 24, 1851.

He attended the public schools and worked in his father's store in boyhood, entering Tuscarora Academy when nineteen years of age, graduating in 1873. He began his banking career in the Juniata Valley Bank at Mifflintown and in 1876 was transferred to the branch of that bank in Port Royal. He was appointed cashier and when the Port Royal National Bank was organized in 1894, he was the first cashier. He continued to serve the bank in various capacities until his death.

In 1882, he was elected to the State House of Representatives. In 1904, he was again elected to the same office, serving one term each time.

He was married to Ellen B. Crawford. They had five children; Mary W. (Kurzenknabe), Darwin C., Gertrude M. (Groninger), Ellen C. and Pamelia J. The latter two sisters are at present living in the Pomeroy home, Armagh Farm, in Port Royal.

Mr. Pomeroy died February 21, 1907.