Robert "Mick" ZIMMERMAN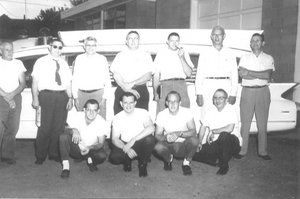 Click On Image To Enlarge
OBITUARY for ROBERT M. "MICK" ZIMMERMAN

ROBERT M. "MICK" ZIMMERMAN SR., 59, of First Street, Port Royal, died at 4:40 am Saturday November 8 [1986] at the Holy Spirit Hospital, Camp Hill, following an extended illness.


Born October 5, 1927 in Milford Township, Juniata County, he was a son of the late Milton W. and Ruth May Sheesley Zimmerman. His wife, Harriet I. Wagner Zimmerman, survives.

Also surviving are two sons: Robert M. Zimmerman Jr. and John C. Zimmerman, both of Port Royal; a brother and three sisters: Calvin D. Zimmerman of Mifflintown RD3, Mrs. Joseph (Ruth) Martz of Ocala, Fla., Mrs. Donald (Dorothy) Booker of McAlisterville, Mrs. Paul (Helen) Guss of Mifflintown RD3; five grandsons and two granddaughters.

He was the owner and operator of Mick's Cafe, Market Street, Port Royal and former owner of Lewistown Dray, Riverside Wholesale, Lewistown and Juniata Refuse Company, Mifflintown.

He was a 1946 graduate of Juniata Joint High School, Mifflintown, and served with the Merchant Marines during World War II.

The deceased was a former Juniata County Democratic chairman.

He was a member of St. Stephen's Lutheran Church, Mifflintown RD1; Union Lodge No. 324 F&AM, Mifflintown; Tall Cedars of Lebanon Forest No. 88, Mifflintown; Officers and Past Officers Association Tall Cedars of Lebanon District No. 18; Harrisburg Consistory; Zembo Temple of Harrisburg; Past Presidents Association of Zembo Temple; and Juniata County Historical Society.

The deceased was also a former Grand Tall Cedar, past president of the Perry-Juniata Shrine Club, life member of the Friendship Fire Company, Port Royal and a charter member of the Port Royal Ambulance Club.

Services were held at 10:30 am Tuesday at the Rex Funeral Home, Port Royal, with Rev. Donald B. Warner, Rev. John E. Halderman and Rev. Robert G. Campbell officiating. Interment was in the New Church Hill Cemetery, Port Royal.