Bridge - Lehmans
Milford St.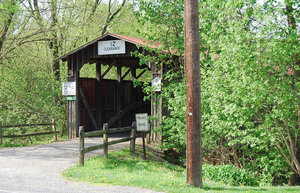 Click On Image To Enlarge
This bridge has been a Port Royal landmark for a long time. It sits at the end of Milford Street and crosses Licking Creek.

The bridge is privately owned and serves the farm that sits across Licking Creek from Port Royal. This farm was deeded to the Wilson family by William Penn. The bridge is known by several names: McCullochs Bridge, Mayers Bridge and Lehmans Bridge.

The first structure was toppled by the flood that was caused by Hurricane Agnes in 1972 and was rebuilt by the Lehman family.
| | |
| --- | --- |
| | Contributed by donholton on 3/25/10 - Image Year: 2000 |
| | Contributed by rkohler3 on 3/22/10 - Image Year: 1950 |
| | Contributed by rkohler3 on 12/29/10 - Image Year: 1950 |
| | Contributed by rkohler3 on 9/11/09 - Image Year: 1952 |
| | Contributed by rkohler3 on 9/11/09 - Image Year: 1965 |
| | Contributed by rkohler3 on 9/11/09 - Image Year: 1974 |
| | Contributed by rkohler3 on 9/11/09 - Image Year: 1974 |
| | Contributed by rkohler3 on 9/11/09 - Image Year: 1974 |
| | Contributed by rkohler3 on 9/11/09 - Image Year: 1974 |
| | Contributed by rkohler on 9/11/09 - Image Year: 1974 |
| | Contributed by rkohler3 on 9/11/09 - Image Year: 1975 |
| | Contributed by rkohler3 on 8/29/13 - Image Year: 1960 |
| | Contributed by rkohler3 on 11/15/13 - Image Year: 2012 |