Christian BENDER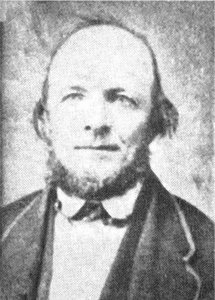 Click On Image To Enlarge
CHRISTIAN BENDER was born May 9, 1825 in Turbett Township a son of William and Barbara (Brandt) Bender. He died July 22, 1903 in Turbett Township.

During his youth he attended the subscription schools of the Township. He early engaged in labor with the farmers of the neighborhood. He was also for a time in the employ of the Pennsylvania Railroad. His services were for the benefit of his parents until the attained his majority.

In 1859, he bought his own place, which he greatly improved by the erection of a commodious barn, and in other ways. He made a specialty of rearing excellent stock. Mr. Bender enjoyed the esteem of the community in which he resided. His support was given to the Democratic Party, but he was no office-seeker.

Christian Bender was married in Turbett Township, in 1853, to Priscilla, daughter of William and Judith (Rice) Saylor; Mrs. Bender was a native of Turbett Township, where her father was a farmer and blacksmith. They had four children: Alice J.; William H., farmer of Ohio; John C., who lived in Dakota; and Mary E.

Mrs. Priscilla Bender died October 20, 1880; and Mr. Bender was again married, June 15, 1882, in Tuscarora Township, to Mary E. daughter of William and Lydia A. (Wilson) Creighton, a native of that township. Mr. Crighton, a shoemaker, was of Scotch-Irish descent. The children of this marriage are: Luther A. and Clara M.