David Torrence NEELY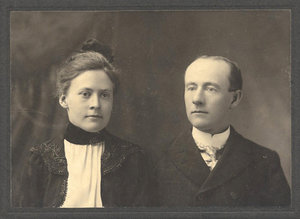 Click On Image To Enlarge
David Torrence Neely was the son of John and Margaret Jane Ewing Neely. He was born June 13, 1869 and died April 14, 1936. David was married to Sarah Shelley, daughter of Amos and Anna (Herr) Shelley. She was born August 31, 1877 and died February 5, 1961.

David was a Presbyterian minister who served congregations in Baltimore, Cincinnati and Cleveland.

OBITUARIES for DAVID TORRENCE NEELY

REV. DAVID T. NEELY PASSES AWAY

Rev. DAVID T. NEELY, a retired Presbyterian minister, died in Cleveland, Ohio, last Tuesday, [14 APR 1936] after a lingering illness, aged about 66 years.

The deceased was a son of the late John and Margaret Ewing Neely, both deceased and was born in Tuscarora Township, Juniata County, near Honey Grove. Here he grew to manhood and, after attending the public schools, where he received his early education, he attended Princeton University and Seminary and entered the ministry.

His first pastorate was at Milroy, Pa. He was very successful in his different fields of labor until forced to retire on account of poor health about ten years ago. He is survived by his wife, Sarah Shelley Neely, eldest daughter of the last Dr. and Mrs. A. W. Shelley, deceased, of Port Royal, and two brothers, W. A. K. Neely, of Nebraska, and Penrose [Peorus] A Neely, of Mecersburg, Pa., and one sister.

Funeral services were held in the Mifflintown Presbyterian Church on Friday and interment was made in the Presbyterian Cemetery at that place.


DAVID TORRENCE NEELY

REV. DAVID T. NEELY

Funeral services for Rev. David T. Neely, retired, former pastor of Milroy Presbyterian Church, who died last Tuesday in Lakeside Hospital, Cleveland, Ohio, were held Friday afternoon at 2 o'clock.

The body arrived in Lewistown on the 7:40 train and was conveyed to the Barchus Funeral Home. Friday morning it was removed to Mifflintown where services were held in the Presbyterian Church in charge of Rev. James Martin, assisted by Rev. John Robison of Port Royal and Rev. Dr. Rose, retired Presbyterian minister of Mercersburg, and Rev. Dr. Frederick Dickens-Lewis, who represented the Cleveland Presbytery.

Casket carriers included: R. B. Robinson, John Graham, Harvey Henry, James Sterrett, Andrew Banks, Ezra Parker, Murray Hetrick and Cummings McNitt.