Clyde Vincent SHEARER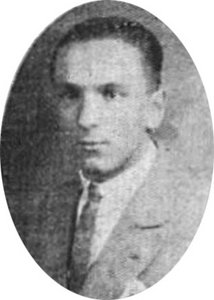 Click On Image To Enlarge
Clyde Vincent Shearer was the son of David McWilliams and Beulah H. (Hart) Shearer. He was born July 27, 1908 and died April 8, 1974. He graduated from Port Royal High School in the Class of 1928. He was married to Beulah Hart.

OBITUARY for CLYDE VINCENT SHEARER

CLYDE V. SHEARER EXPIERS SUDDENLY

Clyde V. Shearer, 65, of 28 S. Cross Street, Mifflintown, died Monday, April 8 [1974] in Lewistown Hospital.

He was born July 27, 1908 in Lack Township to the late David M and Clara [Florence] Henry Shearer. He was married to the former Beulah Hart.

Surviving, in addition to his widow, are two sons, Ronald C., S 3rd St. Mifflintown, and Robert H., Carlisle RD3; three grandchildren, one brother, Wade Shearer, East Waterford R and a sister, Mrs. Ernest (Catharine) Gloss, of Honey Grove.

Shearer was a member of Aldersgate United Methodist Church where he served on the official board and as Sunday school superintendent and teacher; a lay speaker in the U. M. Church and member of the board of directors of the state Sabbath School Assn.; a director of Stone Mountain Village for Boys; IOOF of Mifflintown and Past Grand Assn. of Perry and Juniata Counties.

He was also president of the Association for Retarded Citizens, a member of Milford Grange, Mifflintown Hose Company, Historical Society, Gideon Society, Mifflin-Mifflintown Rotary Club and former Associate Judge of Juniata County.

He was an employee of the Great A & P, retiring in 1967 on disability. At the time of his death he was serving his second term as elected Register and Recorder for Juniata County.

The funeral service will be held Thursday at 11:00 a.m. in the Aldersgate United Methodist Church of Mifflintown with Rev. Donald Stover officiating, assisted by Rev. Charles Stump, Wood Ridge, New Jersey. Burial will take place in the Presbyterian Cemetery, Mifflintown. Friends may call Wednesday evening from 7 to 9 at the Guss Funeral Home on South 3rd Street, Mifflintown.

The family will provide flowers and requests that memorial gifts be made to the Aldersgate United Methodist Church in Mifflintown.