Emerson Cloyd BOYER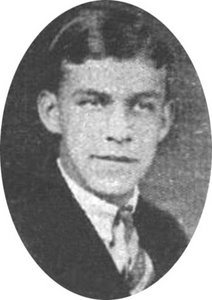 Click On Image To Enlarge
Emerson Cloyd Boyer was the son of George Washington and Mary Ellen (Calhoun) Boyer. He was born November 29, 1909 and died November 4, 1986. He graduated from Port Royal High School in the Class of 1928. He was married to Eleanor Ruth Taylor.

OBITUARY for EMERSON C. BOYER

EMERSON C. BOYER, of 6 D Falcon, Cedar Glen West Lakehurst, NJ, formerly of Port Royal and New York City, died, Tuesday, November 4, 1986 at his home following an extended illness. His wife, Eleanor Taylor Boyer, survives.

Also surviving are three daughters: Florence Henry of New Jersey, Nancy Staab of Virginia, and Patricia Peterson of New Jersey; eight grandchildren; three sisters: Ida Sieber, and Ruth Meloy of Brookline Retirement Center in Mifflintown, and Margaret Kerchner of Georgia; a brother: Wilbur K. Boyer of New Jersey.

He was a graduate of Port Royal High School and was a retired electrician of the New York City Transit Authority.

A memorial service was held by the family at the Port Royal Lutheran Church on Saturday. Memorial contributions may be made to Cedar Glen West First Aid, Cedar Glen West, Lakehurst, NJ 08733.