David McConnell "King" BEALE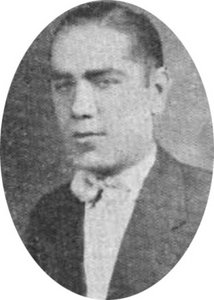 Click On Image To Enlarge
David McConnell "King" Beale was the son of David McConnell and Victoria Alice (Sharpless) Beale. He was born Febriaru 21, 1907 and died December 24, 1982. He graduated from Port Royal High School in the Class of 1928. He was married to Cora Mae Hockenberry.

OBITUARY FOR DAVID MCCONNELL BEALE

DAVID M. "KING" BEALE, 75, of Star Route, Mifflin, died Friday, December 24 [1982] at Lewistown Hospital.

Mr. Beale was born February 21, 1907 at Hambleton, W. Va., a son of the late David and Alice Sharpless Beale.

He was a laborer, formerly employed by the Pa. Dept. of Transportation and was a member of the McCullochs Mills United Presbyterian Church.

Surviving is his wife, Cora M. Beale; a brother, Hudson Beale of Thompsontown, R.D.1; and a number of nieces and nephews. He was preceded in death by a daughter, Patricia Ann, in 1941; and a brother, Lawrence Beale, in 1968.

Funeral services were held Monday, December 27 at the Henry Funeral Home, Honey Grove with Rev. Frank J. Swartz officiating. Interment was made in the McCullochs Mills Cemetery.