11401 Route 333
Old Port (Rt. 333)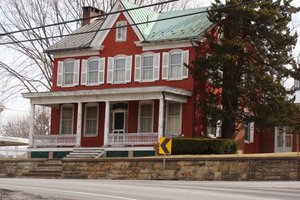 Click On Image To Enlarge
This house was usually referred to as the home of Senator Hertzler. The Senator was William Garman Hertzler, son of Noah and Susan Garman Hertzler. He was referred to as "Senator" since he served in the Pennsylvania State Senate.

It is believed that the house was built and owned by his parents before the Senator owned and occupied it. The house sits at the foot of Hertzler Hill where routes 75 and 333 intersect in Old Port, Turbett Township.

In 2020 it was owned by Harry Summers.
| | |
| --- | --- |
| | Contributed by rkohler3 on 9/4/09 - Image Year: 2009 |
| | Contributed by rkohler3 on 9/4/09 - Image Year: 1877 |
| | Contributed by rkohler3 on 5/3/10 - Image Year: 1924 |
| | Contributed by rkohler3 on 5/18/14 - Image Year: 2007 |