Martha Elizabeth (BARTON) BECK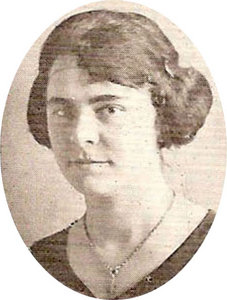 Click On Image To Enlarge
Martha Elizabeth Barton was the daughter of David W. and Martha Belle (Pannebaker) Barton. She was born in 1905 and died October 20, 1996. She graduated from Port Royal High School in the Class of 1924. She was married to Ross Beck.

OBITUARY for MARTHA E. BARTON BECK

Martha E. Beck, 91, of Harrisburg, died Sunday, October 20, 1996, at Sycamore Manor, where she lived for the past month.

Her husband, Ross C. Beck, died in 1972.

Retired, she had been employed as a registered nurse in the Harrisburg area.

She was a member of Harrisburg Hospital Nursing Alumni Association. She was a member of Grace United Methodist Church, Harrisburg, and its Women's Circle.

Born February 16, 1905 at Church Hill, Juniata County, she was a daughter of David W. and Martha Belle Pannebaker Barton.

Surviving are a daughter, Leoan B. LaMar of Montoursville; a brother, Charles Barton of Walnut, three grandchildren, David C. and Steven D. LaMar and Debra E. O'Donnell; two great-grandchildren, Amanda Q., and Gregory D. O'Donnell.

She was predeceased by five brothers Furman, Chester, James, Foster, and David Barton.

The funeral was held October 24 at Faith United Methodist Church, Montoursville, with Pastor Bruce D. Fisher officiating. A graveside service was held at Woodlawn Memorial Gardens, Harrisburg, with Rev. Dr. Carl Schneider officiating.

Arrangements were handled by Spitler's, Montoursville.