Mary Kathleen (MCLAIN) BASHORE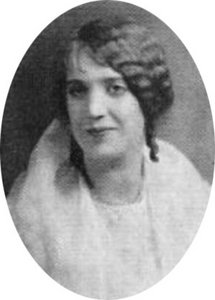 Click On Image To Enlarge
Mary Kathleen McLain was the daughter of William Henry and Bessie V. (Bitner) McLain. She was born April 23, 1911 and died March 8, 1985. She graduated from Port Royal High School in the Class of 1929. She was married to Gordon T. "Sap" Bashore.

OBITUARY for M. KATHLEEN MCLEAN BASHORE

MIFFLINTOWN: M. Kathleen Bashore, 73, of Mifflintown RD1, died at 5:28 a.m. Friday [8 MAR 1985] at Harrisburg Hospital following an extended illness.

Born, April 23, 1911 in Port Royal, the daughter of the late William H. and Bessie V. Bitner McLain.

Surviving are two daughters, Mrs. (Robert) Joan Slautterback, of McHenry, Md., and Mrs. (Joseph) Patricia Forney, of Akron, OH. Also surviving are three grandchildren and one great-granddaughter.

She was preceded in death by a daughter, Jeanette L. Bashore; a sister, Mrs. L. Margaret Fogleman; and a brother, Russell W. McLain.

She was the owner of Kathy's Antique Shop at her Mifflintown, RD1 home.

Services will be held at 10:30 a.m. Monday at the Rex Funeral Home, Port Royal, with the Rev. Barry Minnick officiating. Interment will be in the New Church Hill Cemetery, Port Royal.

The family will receive friends 7-9 p.m. Sunday at the funeral home.

Memorial donations may be made to the Mifflin-Juniata Community Nursing Service, 24 N. Main St., Mifflintown, or of American Cancer Society, Mifflin-Juniata Unit, 13 E. Market St., Lewistown.