Foster Simon BARTON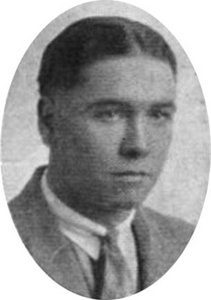 Click On Image To Enlarge
Foster Simon Barton was the son of David W. and Martha Belle (Pannebaker) Barton. He was born about 1909 and died March 31, 1994. He graduated from Port Royal High School in the Class of 1927. He was married to Rita Scanlon.

OBITUARY for FOSTER S. BARTON

FOSTER S. BARTON, 85. of Columbus. Ohio, formerly of Academia, PA died Thursday. March 31, 1994 at Mt. Carmel Medical Center.

Survivors include his wife Rita; children, Sandy (Jim) Hagood, Donna Barton, Foster A. (Cindi) Barton, Rodney (Linda) Barton, Cris (Paul) Huckleberry, Tim (Andrea) Barton; a brother, Charles Barton; a sister, Martha Beck; grandchildren. Mindy Reed, Stephanie Van-Tilburg, Eric Hagood. Travis VanHouten, Leigh Barton, Jessica Barton; and five great-
grandchildren.

Mr. Barton was retired from Rockwell International.

He was a member of the Holy Family Catholic Church, American Legion #532 and VFW Post #495.

Funeral services were held at Holy Family Catholic Church with Fr. Francis Schweitzer officiating. Interment was in Green Lawn Cemetery.