Herman Willard "Jack" TOWSEY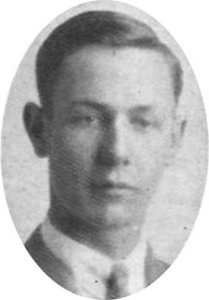 Click On Image To Enlarge
Herman Willard "Jack" Towsey was the son of Lawrence Moffett and Agatha Cordila (Byers) Towsey. He was born August 30, 1906 and died January 7, 1976. He graduated from Port Royal High School in the Class of 1927. He was married to Norine A. Fuller.

OBITUARY for HERMAN "JACK" WILLARD TOWSEY

PORT ROYAL" Herman W. (Jack) Towsey, 69, Sixth Street, Port Royal, died Wednesday [7 JAN 1976] at his home. He was born August 30, 1906 in Turbett Township to the late Lawrence and Agatha Byers Towsey.

His wife, Norine Fuller Towsey, survives along with three 5ons: H. Charles, Washington; D.C.; Donald J., Colonial Park, Harrisburg and John W., Port Royal R.D. 2. Also surviving are three sisters: Stirs. Edith Kepner, Town Lane. Port Royal; Mrs. Mary Henry. Star Route Mifflintown and Mrs. Margaretta Wisehaupt, Port Royal R.D. 1; one brother, W. E. Towsey, Port Royal and four grandchildren.

Towsey was a retired textile worker of the FMC Corporation, and was Constable for the borough of Port Royal. He was a member of the Port Royal Lutheran Church; Textile Workers Local No. 6 of Lewistown and the Friendship Fire Company, Port Royal.

A funeral will be held Saturday at 2 p.m. at the Rex Funeral Home, Port Royal, with the Rev. Henry G. Springer officiating. Interment will be made at McCullough's Mills Cemetery. The family will receive friends at the funeral home Friday from 7-9 p.m.