Parsonage - Methodist
Fifth St.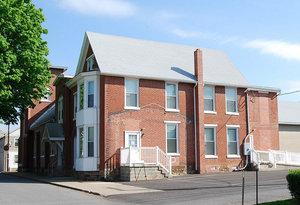 Click On Image To Enlarge
For most of the Twentieth Century the Methodist Parsonage was attached to the main church building. Perhaps that building is now being used for church offices.

Currently (2009) the Methodist Minister lives in a house at 315 East Fifth Street.
| | |
| --- | --- |
| | Contributed by rkohler3 on 11/20/09 - Image Year: 1889 |
| | Contributed by rkohler3 on 11/20/09 - Image Year: 1904 |
| | Contributed by rkohler3 on 11/20/09 - Image Year: 1911 |
| | Contributed by rkohler3 on 11/20/09 - Image Year: 1928 |
| | Contributed by rkohler3 on 9/26/09 - Image Year: 2009 |
| | Contributed by rkohler3 on 5/3/14 - Image Year: 2005 |