708 Market Street
Market St.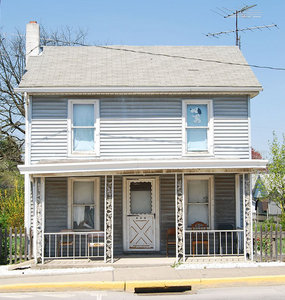 Click On Image To Enlarge
This house sits on the northeast corner of the intersection of Market and Eighth Streets. (This house was built between 1904 and 1911 because it does not appear on the Sanborn Fire Insurance map of 1904 but does appear on their 1911 map.)

During part of the twentieth century it was the home of Edgar L. and Sarah Alice (Walters) Maffett and their daughters Mary, Sarah and Irene.

In the Spring of 2009 the property was owned by Margaret (Clark) Showalter.
| | |
| --- | --- |
| | Contributed by rkohler3 on 5/23/14 - Image Year: 2007 |
| | Contributed by rkohler3 on 11/9/09 - Image Year: 1889 |
| | Contributed by rkohler3 on 11/9/09 - Image Year: 1904 |
| | Contributed by rkohler3 on 11/9/09 - Image Year: 1911 |
| | Contributed by rkohler3 on 11/9/09 - Image Year: 1928 |