216 Milford Street
Milford St.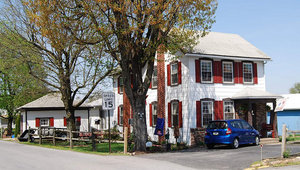 Click On Image To Enlarge
This house sits on the northeast corner of Milford and Third Streets. During the 1950s it served as the home of the Frank "Hank" and Martha (Yoder) Hower and daughters Helen, Karen and Cindy. Eventually the house was owned by daughter Helen and her husband, Alan Fromm.

This house was built before 1889 because it appeared on the Sanborn Fire Insurance Map of that year.
| | |
| --- | --- |
| | Contributed by rkohler3 on 1/1/23 - Image Year: 2022 |
| | Contributed by rkohler3 on 11/19/09 - Image Year: 1992 |
| | Contributed by rkohler3 on 5/23/14 - Image Year: 2007 |
| | Contributed by rkohler3 on 12/2/09 - Image Year: 1889 |
| | Contributed by rkohler3 on 12/2/09 - Image Year: 1904 |
| | Contributed by rkohler3 on 12/2/09 - Image Year: 1911 |
| | Contributed by rkohler3 on 12/2/09 - Image Year: 1928 |