Terry L, LEBKICHER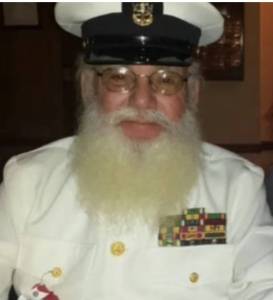 Click On Image To Enlarge
OBITUARY for TERRY L. LEBKICHER, SR.,

Terry L. Lebkicher, Sr., 78, of Port Royal, passed away at 7:38 AM on Sunday, March 26, 2023, at his residence.

Born on September 1, 1944, in Lewistown, Mifflin County, he is a son of the late Earl and Helen (Bowers) Lebkicher.

On April 21, 1984, he married his surviving wife, Sheila (Pray) Lebkicher with whom he was blessed to share over 38 years of marriage before his passing.

In addition to his wife, he is survived by his children, Kristy Lebkicher, Kelly Lebkicher Wise, Lesa Lebkicher Walters, Terry Lebkicher, Jr and his wife Liza, and Adam Lebkicher and his wife Noelle; twelve grandchildren; eleven great grandchildren; and two siblings, John Lebkicher and his wife Nancy and Linda Borhman.

In addition to his parents, he was preceded in death by one brother, William Lebkicher.

Mr. Lebkicher honorably served our country in the United States Navy from 1967 until his retirement in 1988 where he retired as a U.S. Navy Senior Chief.

His memberships included the Juniata County Veterans Council; the VNV Motorcycle Club; the American Legion Post 298 in Mifflintown; and was a life member of the Crawford Brubaker VFW Post 5863 in Mifflintown and the Navy Seabees Veterans of America.

Terry enjoyed woodworking; messing with his Cub Cadets; watching NASCAR, where he was an avid Dale Earnhardt fan; and riding his trike, which was his baby.

Memorial Services will be held on Friday, April 7, 2023, at 11:00 AM from the Brown Funeral Homes, Inc., 100 Bridge St., Mifflintown with Pastor Jeff Henry officiating. Interment will follow in St. Paul's Lutheran Cemetery, Nook where full military burial honors will be accorded by the Juniata County Veterans Council.

A visitation will be held from 10:00 AM until the time of the memorial service at 11:00 AM on Friday, April 7 at the funeral home.

In lieu of flowers, memorial contributions in Mr. Lebkicher's memory can be made to the Children's Miracle Network, Mail Code HS21, P.O. Box 852, Hershey, PA 17033-0852.