Ray F. MILLER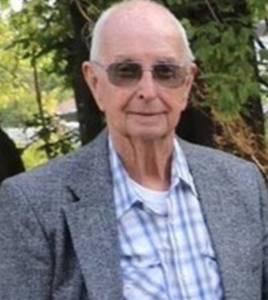 Click On Image To Enlarge
RAY F. MILLER

Ray F. Miller, 93, of Mifflintown (Rockville), died on Friday, February 24, 2023 in the comfort of the home he had built surrounded by his family.

Born on April 10, 1929 in Walker Twp., Juniata County, he is a son of the late Robert and Clara Myrtle (Portzline) Miller. On June 18, 1949, he married his late wife, Sallie A. (Heikes) Miller, with whom he was blessed to share over 71 years of marriage before her passing on December 27, 2020.

He is survived by his children, Ray A. Miller Sr. and his wife Ethel of Mifflintown, Sallie J. Arnold of Mifflin, and Dennis L. Miller and his wife Sharon of Mifflintown; one brother, Victor Miller; two sisters, Marge Hackett and Ruth Gibson; nine grandchildren; eleven great-grandchildren; and three step great-grandchildren.

In addition to his wife and parents, he was preceded in death by a son-in-law, Allen C. Arnold; two brothers, Chester Miller and John Miller; and one sister, Marion Wilson.

Mr. Miller was employed and retired after more than 30 years as a Brake Man, where he was previously employed by Pennsylvania Railroad (PRR) and retired from Conrail.

His membership currently includes the Port Royal Presbyterian Church and the Milford Grange. He was also a former member of the Westminster United Presbyterian Church, Mifflintown.

He enjoyed refinishing furniture; tending to his garden; mowing his yard; making sauerkraut, along with his brother, to give to area churches to distribute to the community.

Ray and his late wife Sallie will be remembered throughout the community for their homemade apple pies and caramels, and his legacy of wanting to help others out any way he could.

A graveside service will be held on Monday, April 10, 2023 at 1:00 p.m. at Union Memorial Gardens in Mifflintown .
Memorial contributions in Mr. Miller's memory may be made to the Port Royal Presbyterian Church, P.O. Box 387, Port Royal, PA 17082.

Arrangements have been entrusted to the Brown Funeral Homes, Inc., 100 Bridge Street, Mifflintown.

Online condolences and tributes can be sent to the family at www.brownfuneralhomesinc.com.