Malinda A. "Mindy" WINDER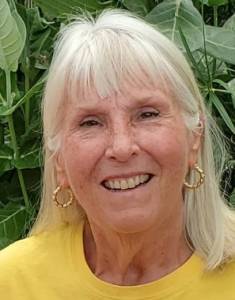 Click On Image To Enlarge
OBITUARY for MALINDA A. (YODER) WINDER

Malinda A. (Yoder) Winder, age 70, died February 19, 2023, at home in Mifflintown, PA, from complications of pancreatic cancer.

Born November 17, 1952, in Harrisburg, she was the daughter of the late Charles Z. Yoder, M.D., and Janet (Troxel) Yoder of McAlisterville.

Surviving are her husband, Andrew L. Winder, and three children, Lt. Cmdr. Samuel B. Winder of San Diego, California, Katherine E. Winder of Mifflintown, and Rebecca S. Winder of Exton, PA.

Mindy's beloved grandson, Dominic V. Gregorio, son of Katherine Winder, also survives.

Mindy was the eldest of the Yoder children, and her surviving siblings are Marcia Leister, and her husband Ed, of Harrisburg, Jack Yoder, and his wife Suzy Meiser, of Buckwheat Valley, Snyder County, and Thomas Yoder of Mifflin, PA.

Mindy was an elementary school teacher, who taught second grade at Thompsontown-Delaware Elementary School for 13 years, and returned to the work force as an employee of the Mifflin-Juniata Area Agency on Aging after her children were in school.

While her children were young, she worked as a seamstress for an interior decorator.

The Juniata County Library was a favorite of hers, and she served on its board.

Mindy was a member of the Juniata County Business and Professional Women's Club, was an active member of the Juniata County Democratic Committee, and supported her husband in his campaigns for Juniata County District Attorney.

At one time, she was active in the Westminster Presbyterian Church of Mifflintown and the Port Royal Presbyterian Church.

Mindy was deeply interested in everyone she met in all walks of life. Women's dignity and independence were central to her beliefs. She loved her time together with the "McAlisterville Pool Ladies" group, and held her Juniata College roommates in her heart all her life.

Her life long passion for sports led her to support Navy football, while her son attended the Naval Academy, and Pitt football and basketball, while her daughters attended the University of Pittsburgh. She was especially happy to meet and chat with Coach Sylvia Hatchell of the UNC Lady Tarheels, and to attend two ACC women's basketball conference tournaments.

Mindy enjoyed her recent travels with Andy, family and friends to the Mediterranean, the British Isles and down the Danube River.

A lifelong pleasure for her were the indoor and outdoor flowers she tended successfully. Any card game caught her attention, and pinochle was a favorite.

Those who wish may make a memorial contribution in support of the Juniata County Library, 498 Jefferson Street, Mifflintown, PA.

The time and place of a celebration of her life will be announced in the near future.

Guss Funeral Home, Inc., Mifflintown, is assisting the family. Condolences may be left at www.gussfh.com.