J. Theron BARTON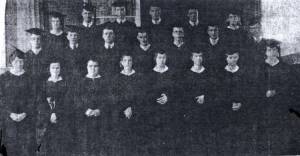 Click On Image To Enlarge
OBITUARY for J. THERON BARTON, 74, of Port Royal RD2, died at 4:22 pm Thursday, February 20, 1992, in the emergency room of Lewistown Hospital.

Born April 1, 1917, in Spruce Hill Township, Juniata County, he was a son of the late Robert V. and Velma [Stitt] Barton Sr. His wife, M. Maxine [Wharton] Barton, whom he married October 4, 1939, survives.

Also surviving are: children, James R. Barton, Port Royal RD2, Mrs. Lawrence [Sandra] Frederick, Millerstown RD1, Mrs. Richard [Betty Jo] Flood Jr., Port Royal RD1; a brother, Robert V. Barton, Jr., Port Royal RD1, seven grandchildren.

He was a retired rural mail carrier with the Port Royal Post Office and was a retired owner and operator of Barton's Meats, Port Royal RD2.

He was a 1934 graduate of Port Royal High School and a US Army World War II veteran.

He was a member of the Turbett Grange No. 781, the Friendship Fire Company, Port Royal and the Ickesburg Sportsmen's Club.

Services were held Monday at the Rex Funeral Home, Port Royal, with the Rev. Steven Nelson officiating. Interment was in the Old Church Hill Cemetery, Port Royal.