Elizabeth E. "Betty" (GILLIFORD) NOSS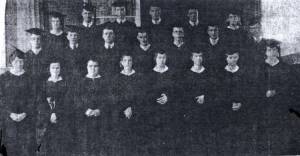 Click On Image To Enlarge
OBITUARY for BETTY GILLIFORD NOSS

MIFFLIN - Betty G. Noss, 96, of the Locust Grove Retirement Village, Mifflin, and formerly of Honey Grove, died at 10:20 a.m. Wednesday, Aug. 15, 2012.

Born March 28, 1916, in Spruce Hill Township, Juniata County, she was a daughter of the late John and Bessie (Barton) Gilliford. On April 3, 1937, she married her late husband, Elmer A. Noss, with whom she shared more than 68 years of marriage before he preceded her in death on July 25, 2005.

She is survived by: a son, John G. Noss and his wife, Ruth Ann, of Honey Grove; two granddaughters, Deborah S. Sweger and her husband, Tony, of East Waterford, and Kathleen Ford and her husband, Brian, of Honey Grove; and she leaves behind two great- grandchildren, Caitlin Noss and Alex Noss and his companion, Kelci Bryner.

She was the last of her generation and was preceded in death by one grandson, Richard W. Noss, on May 6, 2012.

Mrs. Noss was a 1934 graduate of Port Royal High School, Port Royal, and a member of the McCoysville United Presbyterian Church. She also was a member of the Tuscarora Grange 774, the Order of the Eastern Star, Mifflin Chapter 260, and the General Thomas Mifflin Chapter of the Daughters of the American Revolution.

In earlier life, Betty worked alongside her late husband, Elmer, on their family farm.

Betty enjoyed sewing, traveling all over the country and taking cruises with her husband when their health permitted.

A funeral service will be held at 10 a.m. Saturday, Aug. 18, 2012, at the Brown Funeral Homes Inc., 100 Bridge St., Mifflintown, with the Rev. Graham C. Fowler officiating. Interment will follow in the Academia Cemetery.

A viewing will be held from 9 a.m. until the time of the service Saturday, at the funeral home.

For those who wish, memorial contributions in Mrs. Noss's memory may be made to the McCoysville United Presbyterian Church, 2655 McCoysville Road, Mifflin, PA 17058.

Online tributes and condolences may be extended to the family by visiting www.brownfuneralhomesinc.com.