Carrie A. (ARNOLD) NAUGLE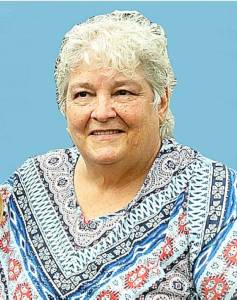 Click On Image To Enlarge
OBITUARY for CARRIE A. NAUGLE

Carrie A. Naugle, 70, of Port Royal (Walnut), passed away at 11:24 p.m. on Saturday, Oct. 15, 2022, at her residence surrounded by her family.

Born on Jan. 22, 1952, in Lewistown, Mifflin County, she was a daughter of the late John E. and Gertrude (Shoop) Arnold.

On May 3, 1969, she was married to her husband, Gary L. Naugle, with whom she was blessed to share over 49 years of marriage before his passing on Jan. 16, 2019.

She is survived by her children, Bill Naugle of Dillsburg, Terry Naugle, and Lori A. Hosler and her husband Donald, all of Port Royal; four grandchildren, Cody Naugle, Chelsea Hosler, Nathan Hosler, and Brooke Hosler; three precious great-grandchil- dren, Teygan Warner, Bentley Hosler, and McKinley Hosler; siblings, Donald L. Arnold of Louisville, Ky., Brooks E. Arnold of Mifflin, and Grace McNemar of Lewistown; and many nieces and nephews.

In addition to her parents and husband, she was preceded in death by her siblings, Cloyd E. Arnold, Anna Hepner, Patsy Guyer, and John Patrick Arnold.
Carrie was employed and retired in 2010 from Triangle Pacific in Thompsontown.

Mrs. Naugle enjoyed hunting and traveling, especially with her husband to car shows; but her greatest joy was spending time with her grandchildren and great-grandchildren.

Funeral services will be held at 10 a.m. on Friday, Oct. 21, 2022, at the Brown Funeral Homes Inc., 100 Bridge St., Mifflintown with Pastor Dan Rockwell officiating. Interment will follow at McCulluchs Mills Cemetery.

Family will receive friends from 5 to 7 p.m. on Thursday, Oct. 20, at the funeral home.

In lieu of flowers, memorial contributions may be made in Carrie's memory to the March of Dimes by visiting www.marchofdimes.org.

Online condolences and tributes can be shared with the family at www.brownfuneralhomesinc.com.