Bridge - 2023 Norfolk Southern Railroad
Route 75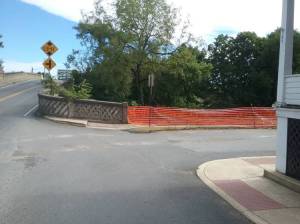 Click On Image To Enlarge
Due to deterioration of the 1910 Railroad Bridge, a new bridge will be erected to replace the century old bridge.

WORK ON PORT ROYAL BRIDGE TO BEGIN THURSDAY
(From the Lewistown Sentinel Sep 13, 2022)

PORT ROYAL — PennDOT will begin preliminary work Thursday to replace a Route 75 bridge spanning the Norfolk Southern Railroad in Juniata County.

The project will start with demolition work on a two-story building located at 101 Second St. in Port Royal Borough.

The contractor will implement intermittent single-lane closures between First and Third streets while completing the demolition work. Flaggers in the roadway will provide traffic control during these closures. Starting Thursday, drivers should build extra time into their travel schedules to avoid delays if they pass through the work zone during one of these closures.

PennDOT anticipates work on the bridge beginning in early January and continuing through mid-July. The contractor will close the roadway and implement a detour while the bridge is demolished and replaced. PennDOT will issue an update on the project with details and mapping for the detour route before implementation of the closure.