Rev. Eugene Harold MCCAHAN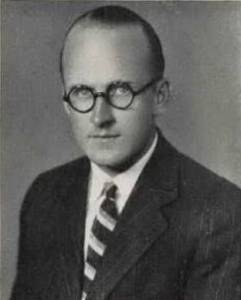 Click On Image To Enlarge
Rev. Eugene H. McCahan was the son of Samuel Henry and Martha (Robeson) McCahan. He was born March 4, 1902 and died November 15, 1983. He married Dorothy May Fouse and they had three children: Malcolm Bruce, David Fouse and Nancy Elizabeth.

Rev. McCahan was the pastor of the Port Royal Presbyterian congregation from 1946 until 1967. During the latter portion of this period he also served the Lost Creek congregation in McAlisterville.

OBITUARY for THE REV. EUGENE H. MCCAHAN

The Rev. Eugene H. McCahan, 81. of Mifflintown RD2, died Tuesday morning, Nov. 15, 1983 in the Lewistown Hospital, Lewistown.

He was born March 4, 1902 in Huntingdon. the son of Henry S. and Martha Robison McCahan. On June 21, 1933 he was married to Dorothy Fouse.

He ls survived by his wife, two sons and one daughter: Malcolm McCahan. Orlando, Fla.; David McCahan, College Park. Md.; and Mrs. Richard (Nancy) Wells, Foxboro, Mass; two grandchildren and two brothers. John K. McCahan, Pittsburgh, and William R. McCahan, Tyrone RD 2.

He graduated from Juniata College with a bachelor of arts degree in 1929 and from Princeton Theological Seminary with a bachelor of divinity degree in 1932. In 1933, at Bellefonte he was ordained a Presbyterian minister. He served as pastor oi the Sinking Valley and Lower Spruce Creek Presbyterian churches from 1933 until 1940 and the Hannibal and Sterling Community Churches from 1940 until 1946. He became pastor of the Port Royal Presbyterian Church in 1946 and in 1957 the Lost Creek Presbyterian Church was added to his charge. He served in this capacity until Sept. 1, 1967, when he retired and was elected Pastor Emeritus oi the Lost Creek Presbyterian church.

Funeral service will be held Friday at 2 p.m. at the Lost Creek Presbyterian Church, McAlisterville. with the Rev. Walter Williams officiating.

Interment will be at Lost Creek Presbyterian Cemetery.

Friends will be received at the Yeisley Funeral Home, McAlisterville, Thursday from 7 to 9 p.m. and at the church Friday from 1 p.m. until the time of the service.

Contributions in his memory may be made to the Lost Creek Presbyterian Church, McAiisterville 17049.