Joan "Joanie" SUMMERS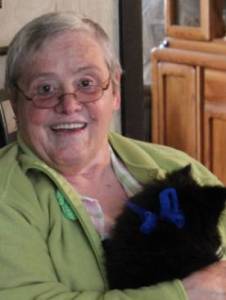 Click On Image To Enlarge
OBITUARY for JOAN M. "JOANIE" SUMMERS

Joan M. "Joanie" Summers, 75, of McAlisterville, formerly of Port Royal, passed away Monday, Aug. 15, 2022 at Geisinger-Lewistown Hospital.

Born Oct. 15, 1946, in Huntingdon, she was a daughter of the late Lester and Mary Louise (Hawn) Summers.

She is survived by one brother, Harry Summers and wife, Shirley, of Aurora, Ill., a brother-in-law, Frank Donchatz of Alexandria, Va., a sister-in-law, Jacqueline "Jacquie" Summers of Mifflin, four nieces, Debbie Silk and husband, Dave, Shari Walker and husband, Eric, Cathy Brady and husband, Scott, Micki Gray and husband, Tom, three nephews, Joel Summers and wife, Amy, David Donchatz and wife, Kristi, Joey Arbogast and wife, Kristi, many great-nieces and great nephews, as well as other extended family.

She was preceded in death by one sister, Marjorie Donchatz, one brother, John Summers, and one great-niece, Vivian Alexis Summers.

Joanie worked at Skills.

She was a member of Port Royal Lutheran Church where she enjoyed being involved with church activities, especially helping at the fair stand.

She enjoyed word find books and putting puzzles together.

The family is planning a memorial service which will be announced at a later time.

Memorial contributions may be made to Port Royal Lutheran Church, PO Box 267, Port Royal, PA 17082.

Guss Funeral Home, Inc., 20 S. Third St., Mifflintown, is assisting with the arrangements. Condolences may be left at www.gussfh.com.