Betty M. (WALTON) KING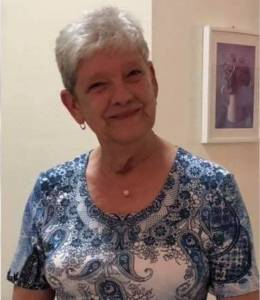 Click On Image To Enlarge
OBITUARY for BETTY M. KING

Betty M. King, 73, of Mifflintown formerly of Port Royal passed away Monday, April 18, 2022 at her home.

Born Sept. 18, 1948 in Lewistown she was a daughter of the late Chester M. and Minnie M. (Swailes) Walton. Her husband Ivan R. "Ike" King whom she married Nov. 8, 1996 passed away on Oct. 30, 2017.

She is survived by three children Terry L. Dressler and wife, Deborah of Jacksonville, N.C., Michael T. Dressler and wife, Stephanie of Mifflintown and Sherri R. Manbeck and husband Timothy S. of Port Royal; ten grandchildren Elijah Manbeck, Gideon Manbeck, Sarah Manbeck, Isaiah Manbeck, Esther Manbeck, Miriam Manbeck, Mary Manbeck, Abraham Manbeck, Sasha Dressler and Drake Dressler; three great-grandchildren, Noah Manbeck, Abigail Manbeck and Hudson Henry; six siblings, Gerald Walton and wife, Kathy of Thompsontown, Jack Walton and wife, Dale of Mifflintown, John Walton and wife, Mary of Mifflintown, Linda Borger and husband, Richard of Harrisburg, Robert Walton and wife, Brenda of Mifflintown, and Ruth Anderson and husband, Eric of Mifflintown, and two sisters-in-law, Pat Walton and Eileen Walton both of Thompsontown.

In addition to her parents and husband, she was preceded in death by two brothers, Charles "Charlie" Walton and Warren "Butch" Walton and one half-brother, Paul Walton.

Betty was a retired medical assistant and was a waitress in various local restaurants. Until recently she worked as a caregiver in people's homes.

She was a member of the Mifflintown V.F.W. and American Legion.

She enjoyed sewing, baking and decorating cakes.

There will be a celebration of life service at a later date, with interment in Indiantown Gap National Cemetery.

There will be no public viewing.

In lieu of flowers, the family requests that you give a contribution in memory of Betty to the charity of your choice.

Arrangements are in the care of Guss Funeral Home Inc., 20 S. Third St., Mifflintown. Condolences may be left at www.gussfh.com.