Mary Lou (BURD) LAY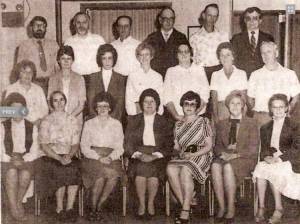 Click On Image To Enlarge
OBITUARY for MARY LOU LAY, 68, of Carlisle, passed away Saturday, November 18, 2006, at Claremont Nursing and Rehabilitation Center, Carlisle.

She was born November 24, 1937 in Port Royal and was a daughter of the late Milton L. Burd and Anna [Bowers] Shilling.

She was a 1955 graduate of Tuscarora Valley High School, Port Royal and had worked as a nurse?s aide at the former Polyclinic Medical Center in Harrisburg. She retired in 1988 from the Pennsylvania Department of Transportation?s Bureau of Traffic Safety as a hearing examiner after 16 years of service, Mary Lou was a member of Faith Chapel of Carlisle.

She is survived by a daughter, Lou Ann Julian and husband Ronald J. of Middletown; two sons, Robert H. Milliken of Greensville, SC and Thomas M. Milliken and wife Teresa of Honey Grove; four grandsons, David Julian, Timothy Julian, Thomas Milliken and Timothy Milliken; two granddaughters, Marianne Gamble and Kaitlyn Milliken.

Funeral services will be held Saturday, November 25, 2006, at 10:30 a.m. in Ewing Brothers Funeral Home, 600 S. Hanover Street, Carlisle with Rev. Michael J. Mayer officiating. Burial will be in Cumberland Valley Memorial Gardens, Carlisle. Visitation will be Friday, November 24 from 7:00 to 8:00 pm at the funeral home.

Memorial contributions may be made to Faith Chapel of Carlisle, 1453 Holly Pike, Carlisle PA 17013.