Donald L. "Donnie" FOGLEMAN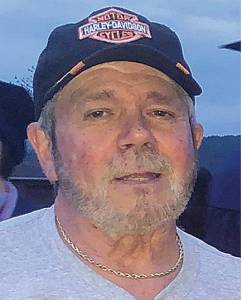 Click On Image To Enlarge
OBITUARY for DONALD L. 'DONNIE' FOGLEMAN

Donald L. "Donnie" Fogleman, 70, of Port Royal, passed away at his home on Saturday, Oct. 16, 2021.

Born June 8, 1951, in Thompsontown, he was a son of the late Kenneth C. and Mary E. (Mengel) Fogleman.

He is survived by his companion, Sandra Lane; two daughters, Rachel Burchfield and companion Tyler Lynch, of Lewistown, and Kimberly Hockenberry and husband, Gregory, of Mifflintown; and three grandchildren, Mason, Makenna and Mollee Hockenberry, all whom he loved dearly.

Donnie was also very close with his three surviving sisters, Mary Ann Lockett and husband, Harold, of Mifflintown, Sandra Fultz and husband, Donald, of McVeytown, and Patricia Nipple and husband, Donald, of Mifflintown.

In addition to his parents, he was preceded in death by two brothers, Kenneth C. Fogleman and James R. Fogleman.

Donnie was a veteran who proudly served in the United States Army from 1971 to 1975.

He retired from Roadway Express in 2009 after 17 years of service.

He was also a member of the Port Royal Lions Club.

Donnie loved having cookouts and gatherings at his home for both family and friends. He loved grilling barbecue chicken for everyone using his "secret sauce" and always teased he never wanted to share the recipe. He loved to gamble and play corn hole with friends and ride his golf cart to all his neighbors in Pleasant View. During his earlier years, he loved riding his Harley Davidson wherever he could.

Donnie loved spending time with his family, especially his grandkids, and was always there for his neighbors and would do anything to help others.

A viewing will be held from 6 to 8 p.m. on Wednesday, Oct. 20, at Guss Funeral Home Inc., 20 S. Third St., Mifflintown.

Funeral services will be at 11 a.m. on Thursday, Oct. 21, 2021, at Guss Funeral Home with Rev. Frank Swartz officiating. Interment will follow in New Church Hill Cemetery, Port Royal, where full military honors will be accorded by the Juniata County Veterans Council.

In lieu of flowers, memorial contributions may be made to the Port Royal Lions Club, in care of Chuck Bryner, 1156 Pleasant View Road, Port Royal, PA 17082.

Condolences may be left at www.gussfh.com.