Mary E. (SWARTZ) EATON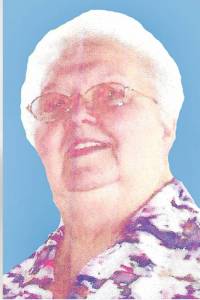 Click On Image To Enlarge
OBITUARY for MARY E. EATON

Mary E. Eaton, 83, of Port Royal, passed away at 7:20 p.m., Tuesday, Aug. 3, 2021, at the Geisinger- Lewistown Hospital.

Born on March 8, 1938, in Mifflintown, Juniata County, she is a daughter of the late Alton and Ethel (Collins) Swartz.

On May 3, 1958, she married her beloved surviving husband, Richard E. "Dick" Eaton with whom she was blessed to share over 63 years of marriage.

She is survived by two sisters, Kay Cummings and her husband Samuel of Mifflin and Noralou Blessing of Mechanicsburg; three sisters in law, Maryalice Ritter, Evelyn Swartz both of Mifflintown, and Stella Yingling of Burnham; and several nieces and nephews.

She was preceded in death by a daughter in infancy, Pamela Eaton; and five siblings, Kenneth Swartz, Alice Price, Helen Shingler, Laura Warren, and Rhoda Stake.

In earlier life, she was a waitress at several area restaurants, and, along with her husband, was a caregiver to several area residents. Last, she was employed and retired as a Seamstress with Juniata Garments in Mifflin.

She enjoyed cooking, reading, collecting hummingbirds and will be remembered for her love of helping those in need.

Public graveside services will be held at 10 a.m. on Monday, August 9, 2021, at Adams Cemetery, Mifflintown.

There will be no public viewing or visitation.

In lieu of flowers, memorial contributions in Mrs. Eaton?s memory can be made to the Susan G. Komen Breast Cancer Foundation, 13770 Noel Rd., Suite 801889, Dallas, TX 75380.

Arrangements have been entrusted to the Brown Funeral Homes, Inc., 100 Bridge St., Mifflintown.

Online condolences and tributes can be shared with the family at www.brownfuneralhomesinc.com.