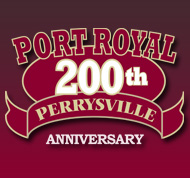 Charles "Sam" IMES
Click On Image To Enlarge
OBITUARY for Charles "Sam" Imes

Charles "Sam" Imes, 91, of Port Royal, passed away Wednesday, July 11, 2018, at Geisinger-Lewistown Hospital.

Born Jan. 7, 1927, in Doyles Mills, he was a son of the late D. Luther and Jenetta M. (Swartwood) Imes. His wife of more than 60 years, Janet Y. "Bonnie" (Hurrell) Imes, whom he married July 23, 1953, died on May 13, 2014.

He is survived by: three children, Treva D. Steinberger, of East Waterford, Barry C. Imes and wife, Bonnie, of Port Royal, and Marlon S. Imes, of Port Royal; two brothers, R. Lee Imes and wife, Alice, of Mifflin, and David L. Imes and wife, Judy, of Port Royal; one sister, Connie L. Horst and husband, Robert, of Lemoyne; seven grandchildren; and nine great-grandchildren.

In addition to his parents and wife, he was also preceded in death by: one daughter, Kimberly S. Barron; two grandsons, Robbie A. Barron and Weston C. Imes; his son-in-law, Stephen R. Steinberger; and seven siblings, Melvin Imes, Blair Imes, Stella Brandt, Lehman Imes, Earl Imes and two infant sisters, Dorothy and Mary Imes.

He was a veteran of the United States Army, who proudly served during the Korean War.

Sam was a life-long farmer. He also worked as the dispatcher at Empire Kosher for 17 years, retiring in 1975 and he hauled livestock for many years.

He enjoyed riding his four wheeler, fishing, hunting and playing cards. He attended the Four Seasons Senior Center where he avidly participated in the exercise classes. But his greatest love was his family and spending time with them.

His funeral will be at 10 a.m. on Saturday, July 14, 2018, at Guss Funeral Home Inc., 20 S. Third St., Mifflintown, with Pastor Casey Hostler officiating. Interment will be in Old Church Hill Cemetery, Port Royal, where full military honors will be accorded by the Juniata County Veterans Council.

There will be a viewing from 7 to 9 p.m. Friday at the funeral home.

Memorial contributions may be made to Four Seasons Senior Center, 47 CJEMS Lane, Mifflintown, PA 17059.

Condolences may be left at www.gussfh.com.