James Cunningham GRAHAM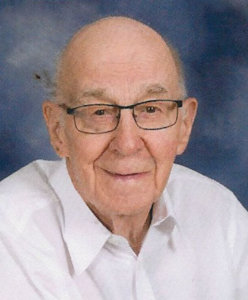 Click On Image To Enlarge
OBITUARY for JAMES C. GRAHAM

James Cunningham Graham, 93, of Port Royal, passed away at 12:35 a.m. on Friday, July 6, 2018 at his residence.

Born on Dec. 24, 1924, in Spruce Hill Township, Juniata County, he was a son of the late William and Mabel (Cunningham) Graham. On Jan. 1, 1950, he married the late Mary (Cleck) Graham, with whom he was blessed to share more than 53 years of marriage before her passing on April 7, 2003.

Mr. Graham is survived by: two daughters, Susan Harris and her husband, Craig, and Barbara Wilson and her husband Steven, all of Port Royal; three grandchildren, Lindsay Thompson and her husband, Garrett, Matthew Harris and his wife, Erin, and David Wilson and his companion, Anna Troester; and one great-granddaughter, Ella Ruby Harris.

In addition to his parents, he was preceded in death by a brother, Robert Graham, making him the last of his generation.

His memberships included the Lower Tuscarora Presbyterian Church, where he served as an Elder, the Juniata County Holstein Club and the Mifflintown Lions Club.

Mr. Graham was a proud World War II veteran, honorably serving our country with the United States Army.

James was a lifelong dairy farmer on his farm, Grams-Joy Farm in Port Royal. He also drove a school bus and vans for Stewart Busing and helped hang spouting for Harris Seamless Spouting.

His hobbies included reading and working on suduko puzzles. In his younger years, he enjoyed riding motorcycles and was a part owner of a race car, but his greatest joy came from spending time with his family and friends.

Memorial services will be held at 10:30 a.m., Saturday, July 14, 2018, from the Lower Tuscarora Presbyterian Church, 54 Church Road, Mifflin, with the Rev. John Park officiating. Interment will be private at Academia Cemetery.

The family has kindly asked to omit flowers and send memorial contributions in Mr. Graham?s memory to the Lower Tuscarora Presbyterian Church, Attn: Treasurer, 54 Church Road, Mifflin, PA 17058.

Arrangements have been entrusted to the Brown Funeral Homes Inc., 100 Bridge Street, Mifflintown.

For online tributes and condolences, visit www.brownfuneralhomesinc.com.