Esther V. (GOODLING) SARVER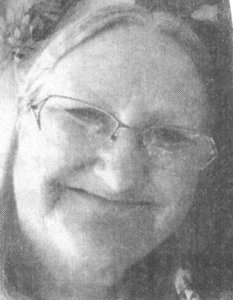 Click On Image To Enlarge
OBITUARY for ESTHER V. SARVER

Esther V. Sarver, 62, of Port Royal, PA, passed away on Wednesday, April 4, 2018 in the Geisinger-Lewistown Hospital Emergency Room.

She was born at home in Snyder County, the daughter of the late Charles B. and Marcella (Kerstetter) Goodling.

Esther was a graduate of Selinsgrove High School.

She enjoyed playing games on her phone, puzzles, going to yard sales, and fishing. She especially loved spending time with her family, especially her grandchildren.

Esther is survived by her four children: Bruce Goodling and his girlfriend Beth Marshall of Mifflin, Rose Layton and her husband Thomas of Port Royal, Esther Shetter and her husband Randy, Jr. of Mt. Pleasant Mills, and Candy Sarver of Millerstown; nine grandchildren: Hunter Shetter, Alissa Goodling, Kyle Beasom, Cami Pannebaker, DeShawna Shetter, Isabella Pannebaker, Dylan Beasordf, Zander Goodling, and Derrick Beasom; seven brothers and sisters: Charles Goodling, Eugene Goodling, Lulubelle Perkinson, Shirley Goodling, Diane Goodling, Leonard Goodling, and Mickey Goodling and many nieces and nephews. Esther was preceded in death by her long time companion, Charles Swartz.

A memorial service will be held at a later date at the discretion of the family.

Memorial gifts may be made in memory of Esther to the George P. Garman Funeral Homes, Inc., 9366 Rt. 35, Mt. Pleasant to assist the family with the expenses.