Mary E. (MILLER) POWELL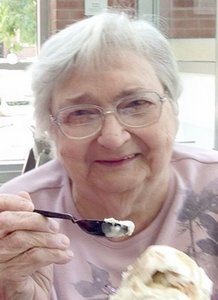 Click On Image To Enlarge
MARY E. (NEWMAN) POWELL

Mary E. (Newman) Powell, 85, of Lewistown, passed away at 12:58 p.m., Saturday, Dec. 20, 2018 [2017], at Geisinger-Lewistown Hospital.

Born Aug. 28, 1932, in Port Royal, she was the daughter of the late C. Edgar Miller and Florence (Rothrock) Miller.

In addition to her parents, she was preceded in death by: her husband, Kenneth Powell; daughters, Linda Cherry and Robin Newman; stepson, Thomas Powell; son, Brian D. Newman; sister, Anna Catherine Hale; brothers, Charles, David, Harry Edgar, Gene, and James Miller; grandchildren, Michael and Jeffrey Cherry.

She is survived by: her children, Nancy Sowich and husband, William, of Reedsville, Vickie Kauffman and husband, David, of Lewistown, Thomas A. Newman and wife, Sally, of Lewistown, Barry L. Newman and wife, Penny, of Long Beach, Miss., stepson, Kent Powell, and Daniel Powell; sister, Dorothy Bingaman, of Bloomsburg; 12 grandchildren and 23 great- grandchildren.

Mary worked as a waitress at the Diana Candy Shop for 25 years and was a supervisor at Scotty's Fashions for 10 years.

She was a member of the St. Mark's Episcopal Church, and a member of the Junction Fire Company, Brooklyn Hose Company, City Fire Company and Women of the Moose.

She was an avid Penn State football fan and enjoyed cooking and baking for family and friends. She also enjoyed eating out at her favorite restaurant Ritchie's OIP on Thursday and Saturday evenings.

Viewings will be held from 6 to 8 p.m. Wednesday, Jan. 3, and from 1 to 2 p.m. Thursday, Jan. 4, at Heller-Hoenstine Funeral Home, Woodlawn, 200 N. Main St., Lewistown, with a funeral service to follow on Thursday, with the Rev. Vaughn Kanagy officiating.

Interment will take place at Lind Memorial Cemetery.

Memorials in Mary's name may be made to a charity of one's choice.

Online condolences may be offered to the family at www.hellerhoenstine funeralhome.com.