Ruth Anna (DEEN) GABLE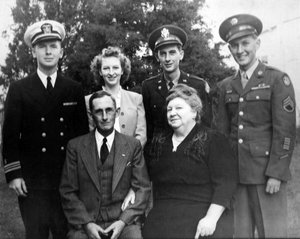 Click On Image To Enlarge
Ruth Anna Deen was the daughter of Harry S. and Gertrude (Groninger) Deen. She was born in Port Royal September 5, 1919. She married Jacob Louis Gable and they had children: Diane, Linda and Susan.

OBITUARY for RUTHANNA GABLE

RUTHANNA GABLE of Montgomery Village, MD, died July 24, 2011 at Montgomery General Hospital in Olney, MD. She was born September 5, 1919 in Port Royal, Pennsylvania. She was married to her loving husband, Jacob Louis Gable for 59 years. She is survived by her three daughters, Susan Connors of Olney, Linda Wills of Fort Lauderdale, Florida and Diane Gable Charuhas of Montgomery Village, four grandchildren and two great-grandchildren.

Services are being held on Wednesday, July 27 at the Norbeck Memorial Park Chapel, 16225 Batchelors Forest Road, Olney, MD 20832 at 10:30 a.m.