Dorothy S. (SHOVER) PRINTZ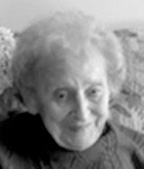 Click On Image To Enlarge
OBITUARY for DOROTHY S. PRINTZ

Dorothy S. Printz, formerly of Lewistown, died at 9:45 a.m. Wednesday, Feb. 24, 2016, at Gracious Living Estates, Montrose.

Born Oct. 19, 1917, in Port Royal, she was a daughter of the late A. Blaine and Jennie (Moyer) Shover.

In addition to her parents she was preceded in death by her husband, W. Earl Printz, on Nov. 27, 1986.

She is survived by: a son, William E. Printz, of Hallstead; a brother, Blaine Shover, of Beaver Springs; one grandchild, David Printz, of Dillsburg; two great-grandchildren; and nieces, Dorothy Porpotage and Janice Gutshall, both of Lewistown.

Dorothy earned a Bachelor of Science degree at Shippensburg University and a Masters degree from Penn State University.

She was employed as an elementary teacher in the Mifflin County School District retiring, in 1977 after 34 years of service.

She was a member of St. John's E.L.C., Lewistown, where she was the church librarian, taught Sunday school for 60 years, was a member of the Miriam Circle and was a church quilter.

Dorothy was also a member of Delta Kappa Gamma Sorority and volunteered at Ohesson Manor for more than 20 years.

A funeral service will be held at 11 a.m. Saturday, Feb. 27, at Hoenstine Funeral Home, 75 Logan St., Lewistown, with the Rev. Charles Hershberger officiating.

The family will receive friends from 10 to 11 a.m. Saturday at the funeral home.

Interment will take place in Juniata Memorial Park, Lewistown.

Memorials in Dorothy's name may be made to St. John's Evangelical Lutheran Church, 120 N. Main St., Lewistown, PA 17044.

Online condolences may be offered to the family at www.hellerhoenstinefuneralhome.com.