William Herbert "Herb" KENNEDY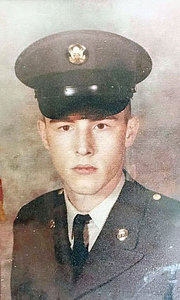 Click On Image To Enlarge
OBITUARY for WILLIAM HERBERT KENNEDY

PORT ROYAL: W. HERBERT KENNEDY, 25, Second St., died Saturday as a result of an automobile accident. He was born in Lewistown Nov. 2, 1949 to William and Romaine McCulloch Kennedy.

Survivors include two brothers, James B., Port Royal and J. Douglas, Mifflin; three sisters, Mrs. Michael (Sue) Hoffman, RD1 Richfield, Pamela and Penny at home, parental grandparents, Mr. and Mrs. W. Banks Kennedy, Port Royal and maternal grandmother, Mrs. Frances McCulloch, Port Royal.

He was employed at D. E. Smith, Inc., Mifflintown RD2. He served with the US Army as a clerk in Vietnam. He was a 1968 graduate of Tuscarora Valley High School and a member of Port Royal softball team.

The funeral is Wednesday at 10 am at Rex Funeral Home with the Rev. Donald R. Wood officiating. Interment is in Old Church Hill Cemetery. The family will receive friends at the funeral home Tuesday from 7 to 9 pm.

(Lewistown Sentinel - 27 May 1975)

I don't know much about Uncle Herb, but I know that he passed away in a car accident on May 24, 1975; he was 25 years old. He was the son of E. Romaine Kennedy and William 'Bill' Kennedy. His brothers and sisters are: James 'Jim' Kennedy, J. Douglas Kennedy, Pamela Kennedy Corkins, F. Sue Brewer, and Penny Royer.